Pure Outdoor Backpack Cooler | Lightweight | Waterproof
Pure Outdoor Backpack Cooler | Lightweight | Waterproof
Product SKU:

138995

Keep it cold: Three layers of high quality insulation work together to keep your cans and bottles cold for up to 3 days when filled with ice.
Premium comfort: The backpack cooler features cushioned straps at the shoulders, hips, and even a strap across the sternum to make carrying full loads as comfortable and as ergonomic as possible.
Lightweight: Weighing in at just 5.2 pounds empty, the backpack cooler adds minimal weight to your trips and adventures.
Durable: The high-density fabric is puncture and impact resistant, allowing the cooler to take a serious beating on rough and rugged outings.
Leakproof, waterproof, and buoyant: The outer casing is lined with a waterproof layer that keeps water from entering or escaping. The middle layer is a high density foam that allows the cooler to float and the interior is fully lined with a leakproof material.

Is that soft cooler a lot heavier than you anticipated? Allow us to assist you with our Pure Outdoor Backpack Cooler. This cooler is designed like a backpack, so you can carry the load on your back, leaving your hands free for walking sticks or to carry other items. With multiple ways to carry your beverages, this soft cooler is the bag for you. Use it as a backpack, shoulder bag, or even as a regular hand tote. Pack it with ice and throw in your favorite beverage cans or bottles to keep your drinks perfectly cold. It is constructed using high-density fabric that is 100% waterproof and resistant to mildew and punctures. Three layers of high quality insulation work together to keep your cans and bottles cold for up to 3 days when filled with ice. The inner fabric is made using an FDA approved TPU material and airtight and waterproof zippers keep the cooler leak-free.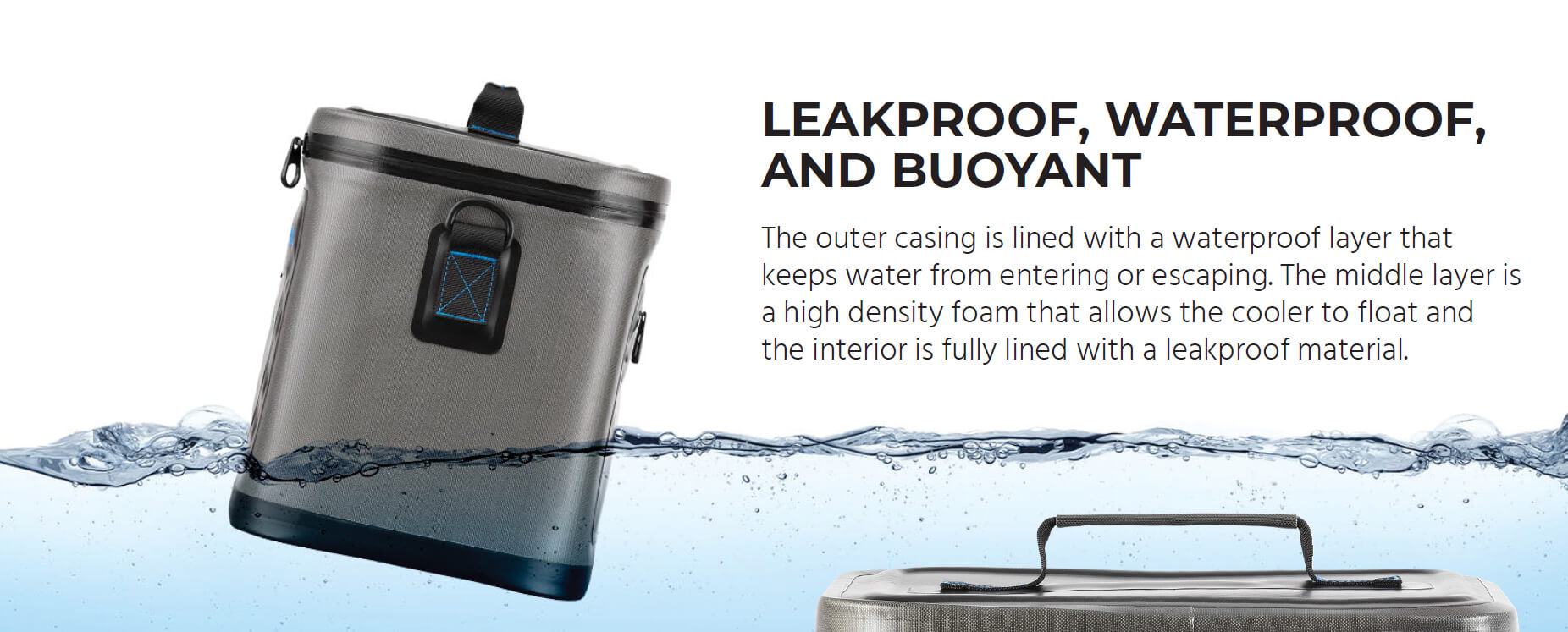 Monoprice™, PURE OUTDOOR™, the PURE OUTDOOR logo, and all Monoprice logos are trademarks of Monoprice Inc.

How long will it take for my order to arrive?
After the order has been placed, shipping takes about 5-7 business days. Our warehouse is located in the Netherlands.
What do I have to pay for shipping?
The shipping is free for all orders to the UK and Jersey. Custom fees are also paid by Monoprice GmbH.
What are the returns policy?
You can return your items to us for free within 14 days without giving a reason. We expect the items to be in their original condition upon return.
How does the return work?
If you do not like an article, you can return it to us within 14 days of delivery. Please contact us at uksupport@monoprice.com to receive a free return label. Please print the return label, stick it on the carefully sealed package and hand it over to your local post office. Please keep the document with the tracking number carefully.