Cadet 3D Printer

The First Mission to Discovery is here with the Monoprice MP Cadet 3D Printer. MP Cadet by Monoprice is the perfect 3D printer for beginners just starting their journey to experienced users looking for a desktop-friendly counterpart. The MP Cadet is the world's easiest to use 3D printer. It ships fully assembled and is ready to start printing within 30 seconds of taking it out of the box. Wireless printing with the built-in Wi-Fi® is a snap, simply connect the 3D printer to the free mobile app and you'll be ready to go. The fully automatic leveling system takes the frustration out of manual leveling, making it easier to start a print the first time and eliminating the need for constant tinkering.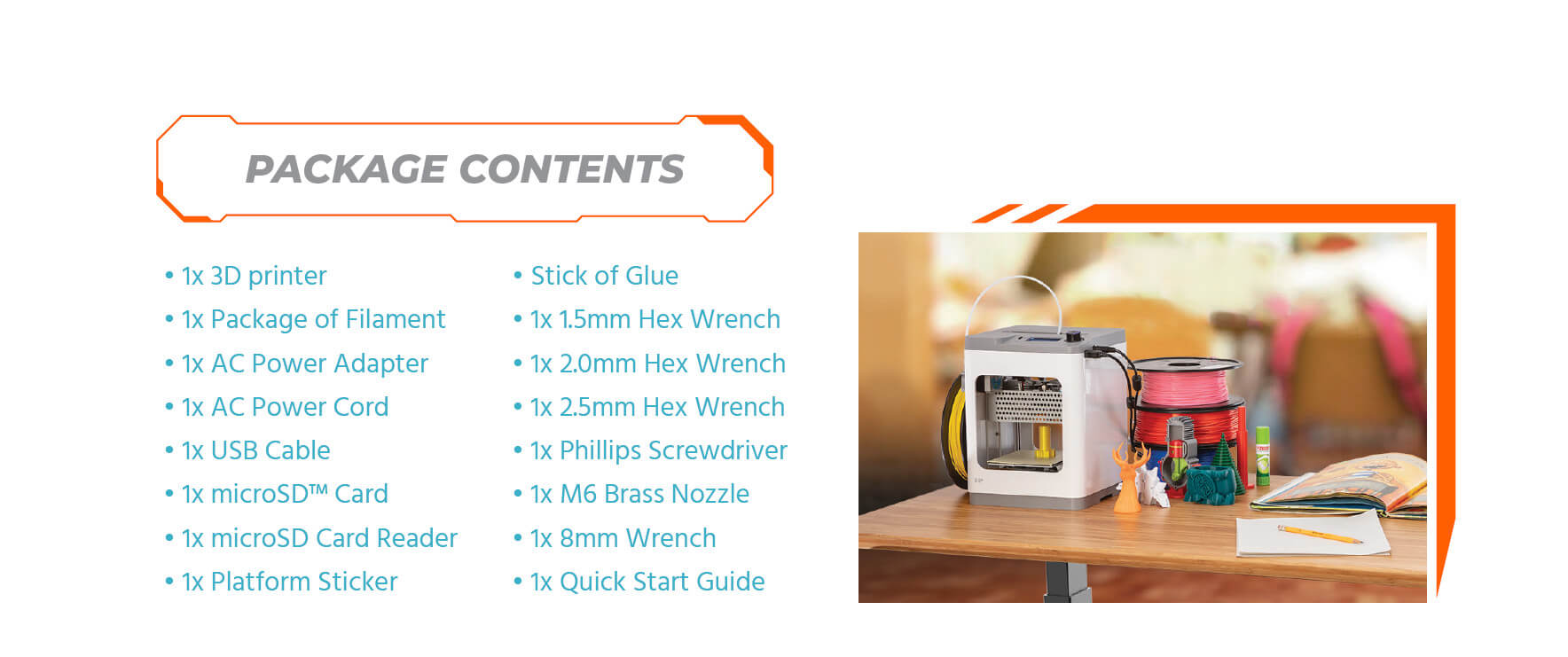 Full Specs
| | |
| --- | --- |
| Model | 40108 |
| Printing Technology | Fused Filament Fabrication (FFF) |
| Supported Filament Types | PLA, PLA Pro |
| Filament Diameter | 1.75mm |
| Nozzle Diameter | 0.4mm |
| Maximum Nozzle Temperature | 250°C |
| Build Volume | 3.9" x 4.1" x 3.9" (100 x 105 x 100 mm) |
| Printing Accuracy | 0.1 - 0.4 mm |
| Leveling Method | Automatic |
| Supported Slicing Software | WiiBuilder, Cura |
| Supported Model File Types | .STL, .OBJ, .gcode |
| Supported Inputs | microSD™ card, Wi-Fi®, WLAN, USB |
| Maximum microSD Card Capacity | 8GB |
| Supported microSD Card Formatting | FAT32, 4096 bytes per sector |
| Dimensions | 8.5" x 7.9" x 10.6" (215 x 200 x 270 mm) |
| Weight | 6.6 lbs. (3.0 kg) |
Support Files:
Cadet™ and the Cadet logo are trademarks of Monoprice Inc.
microSD™ is a trademark of SD-3C, LLC.
Wi-Fi® and Wi-Fi Alliance® are registered trademarks of Wi-Fi Alliance.
Google™, Android™, Google Play™, and the "Get It On Google Play" logo are trademarks of Google LLC.
Microsoft® and Windows® are either registered trademarks or trademarks of Microsoft Corporation in the United States and/or other countries.
Apple®, App Store®, Mac®, OS X®, and the "Download on the App Store" logo are trademarks of Apple Inc., registered in the U.S. and other countries.
Updated Jan 18, 2021
How long will it take for my order to arrive?
After the order has been placed, shipping takes about 3-4 business days.
Please notice: We're experiencing temporary delays up to 2 weeks. For more information visit COVID-19 Update.
What do I have to pay for shipping?
Free shipping for orders over £29.
What are the returns policy?
You can return your items to us within 14 days without giving a reason. We expect the items to be in their original condition upon return.
How does the return work?
If you do not like an article, you can return it to us within 14 days of delivery. Please contact us at uksupport@monoprice.com to receive a return label. Please print the return label, stick it on the carefully sealed package and hand it over to your local post office. Please keep the document with the tracking number carefully.