Monoprice SonicSolace Active Noise Cancelling Bluetooth w/aptX Wireless Over the Ear Headphones, Black (New in Bulk Packaging/No Retail Box)
Monoprice SonicSolace Active Noise Cancelling Bluetooth w/aptX Wireless Over the Ear Headphones, Black (New in Bulk Packaging/No Retail Box)
sol•ace
/'sӓlәs/
noun
1. comfort or consolation in a time of distress or sadness.
verb
1. give solace to.
synonyms:
comfort, support, soothe, calm
---
Connect to the SonicSolace™ headphones using Bluetooth®, turn on the Active Noise Canceling feature and slip away to your happy place. Take comfort in your sound, maybe for just 30 minutes or maybe for an entire 8 hour flight. Choose from Classic Black or the elegant Champagne and Tan.
Active Noise Cancelling: Immerse yourself in your own soothing aural oasis with fully active noise cancelling technology. External microphones "listen" to the environment and then generate a reverse signal that eliminates background noise and gives you peace of mind.
Great Sound: Life is too short for audio products that don't sound great! We believe that the whole point of listening to music is to hear it as the artist intended. Our engineers and audio experts have spent countless hours listening to and comparing various headphones until we were satisfied we had found models that fit our demanding standards.
Bluetooth® 5: The Bluetooth® 5 radio allows you to wirelessly connect to your smartphone, so you can enjoy your favorite music or audio book without the hassle of dealing with cables.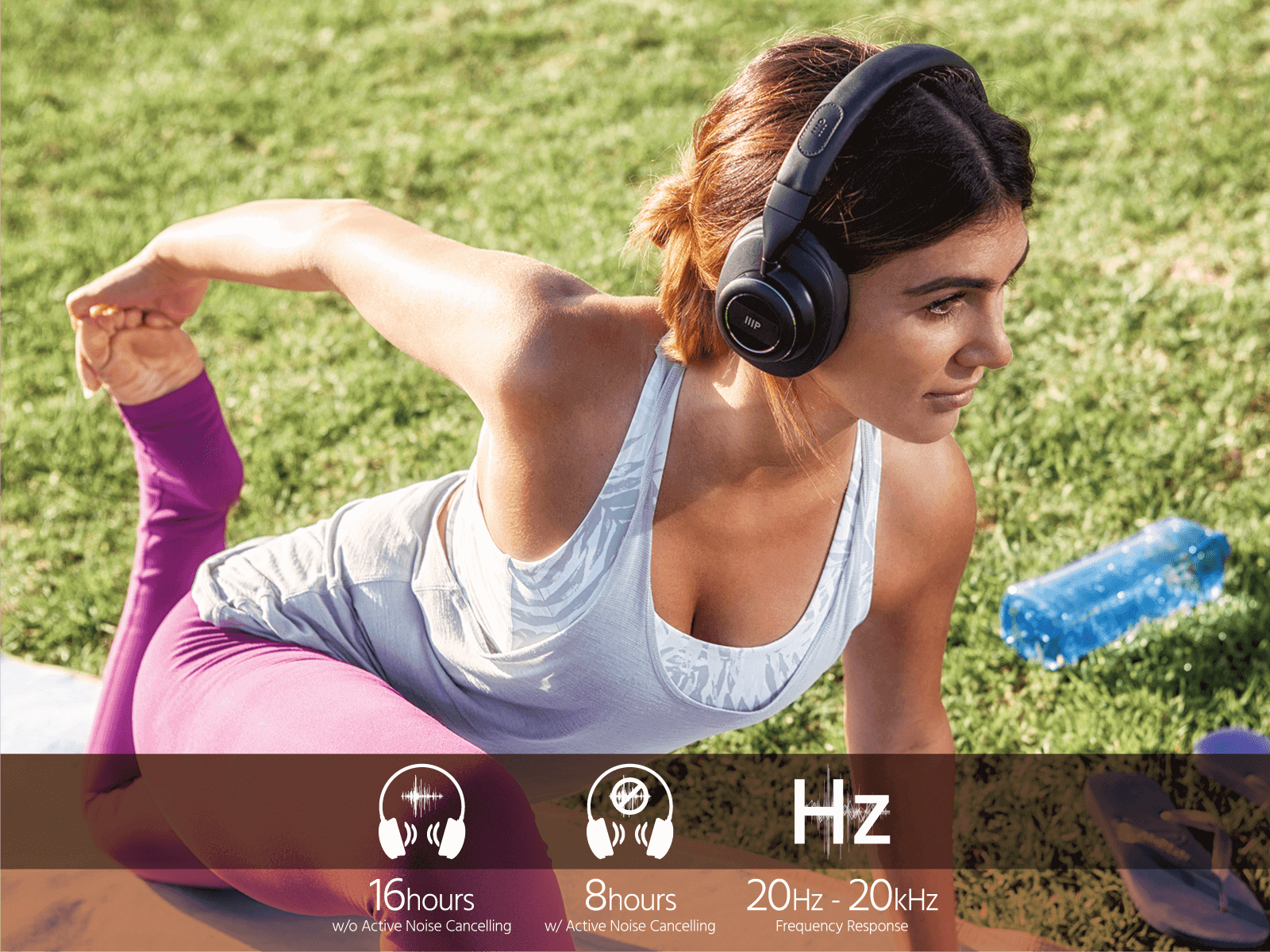 Incredible Full Range Sound
Up to 16 hours audio playback without Active Noise Cancelling enabled
Up to 8 hours of audio playback with Active Noise Cancelling enabled
Built-in 320mAh Lithium-ion battery
20 Hz ~ 20 kHz frequency response
Bluetooth® version 5 with A2DP, AVRCP, HFP, and HSP profiles
40mm drivers with neodymium magnets
105dB sensitivity
Audible indication of low battery status
How long will it take for my order to arrive?
After the order has been placed, shipping takes about 3-4 business days.
As of 12/21/2020, we're experiencing temporary delays due to Brexit and government lockdowns. We cannot predict how long it will take to reopen fulfillment, so we are temporary extending our cancellation period. For more information visit COVID-19 Update.
What do I have to pay for shipping?
Free shipping for orders over £29.
What are the returns policy?
You can return your items to us within 14 days without giving a reason. We expect the items to be in their original condition upon return.
How does the return work?
If you do not like an article, you can return it to us within 14 days of delivery. Please contact us at uksupport@monoprice.com to receive a return label. Please print the return label, stick it on the carefully sealed package and hand it over to your local post office. Please keep the document with the tracking number carefully.