Premium Immersive Satellite Speakers | for Computer, TV, Games, Music Players, AV, Video | Studio Monitor Loudspeaker | Pair
Premium Immersive Satellite Speakers | for Computer, TV, Games, Music Players, AV, Video | Studio Monitor Loudspeaker | Pair
Product SKU:

133833

Category:

Audio Fixed Speakers Recommended
IMMERSIVE SOUND The immersive, upward-firing driver adds a new dimension to movie soundtracks, making the sound come alive from all directions and creating a 3D space. The upward-firing driver projects sound towards the ceiling, with the ceiling reflecting the sound back down into the listening space. With this system there is no need to install in-ceiling speakers for height channels! This driver arrangement and connectivity is fully compatible with Dolby Atmos@enabled receivers and soundtracks
COMPACT SIZE These immersive satellite speakers measure just 4S x IOS x 53, weigh in at only 29 pounds eacrv and are equipped with a universal 1/4"x20 threaded insert mounts
TWEETER: 3/4" Aluminum Dome | WOOFER: 3" Polypropylene | INPUT POWER: 100 Watts | SENSITIVITY: 88 dB | IMMERSION HEIGHT DRIVER: 3" Polypropylene | IMPEDANCE: 80 | CONNECTORS: Binding Post | DIMENSIONS: 4.5" x 10.5" x 5.3".

The Monoprice Premium Immersive Satellite Speakers take your home theater to new heights! Fully compatible with both standard and Dolby Atmos® enabled receivers, these two satellite speakers have been equipped with immersive, upward-firing drivers, enhancing the detail in multichannel, multidimensional soundtracks. the Monoprice Premium Immersive Satellite Speakers surpass all expectations for sound quality in a small package!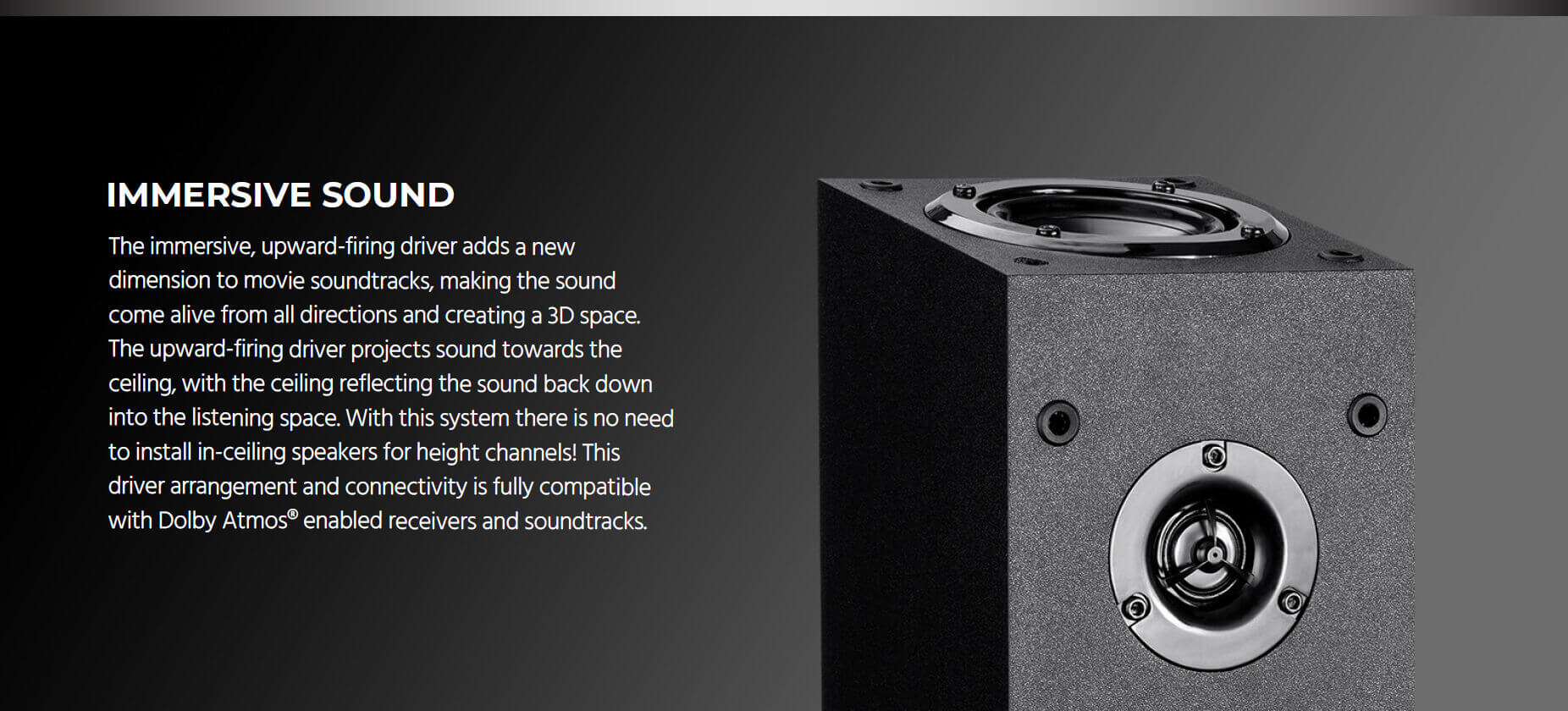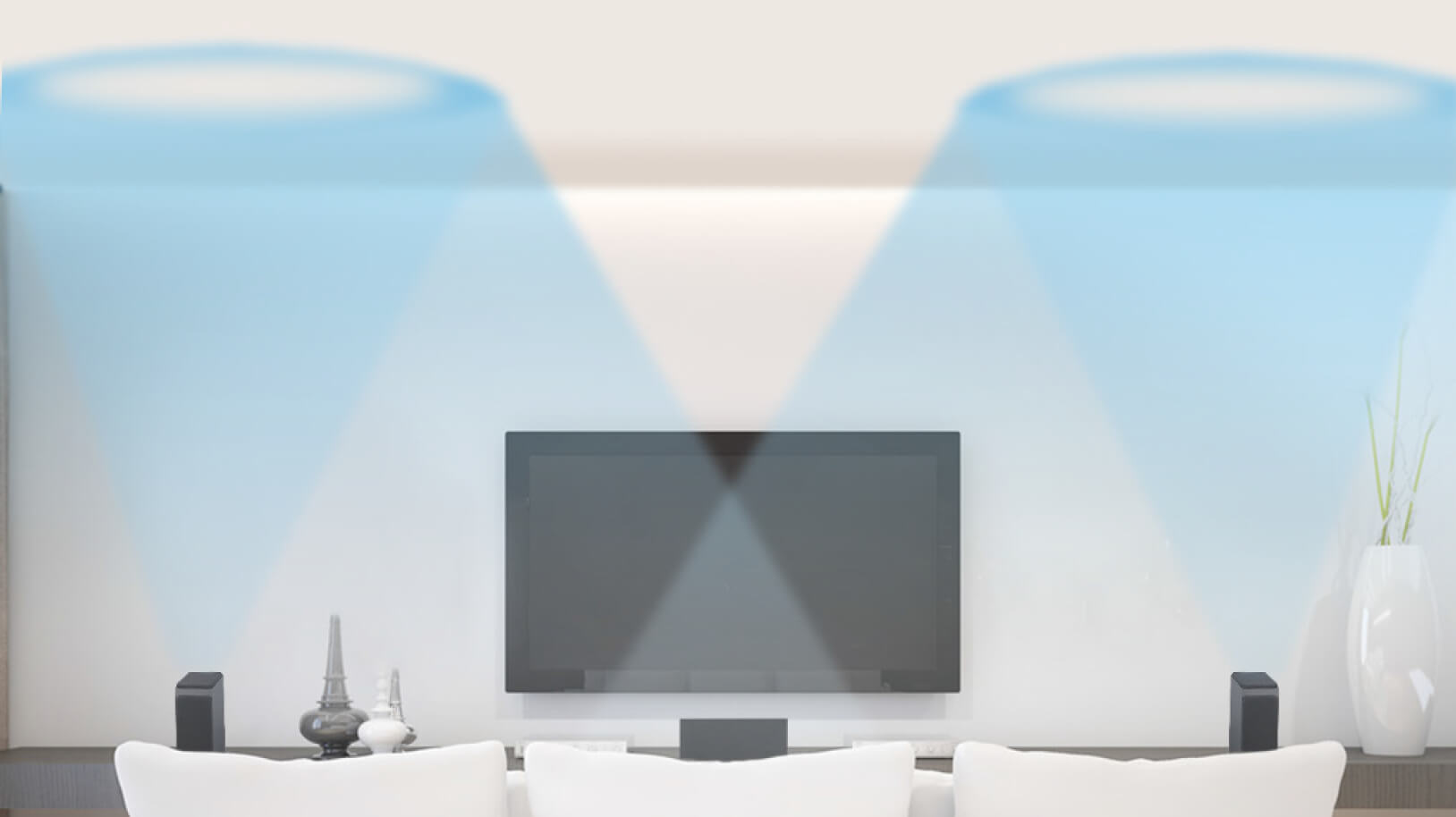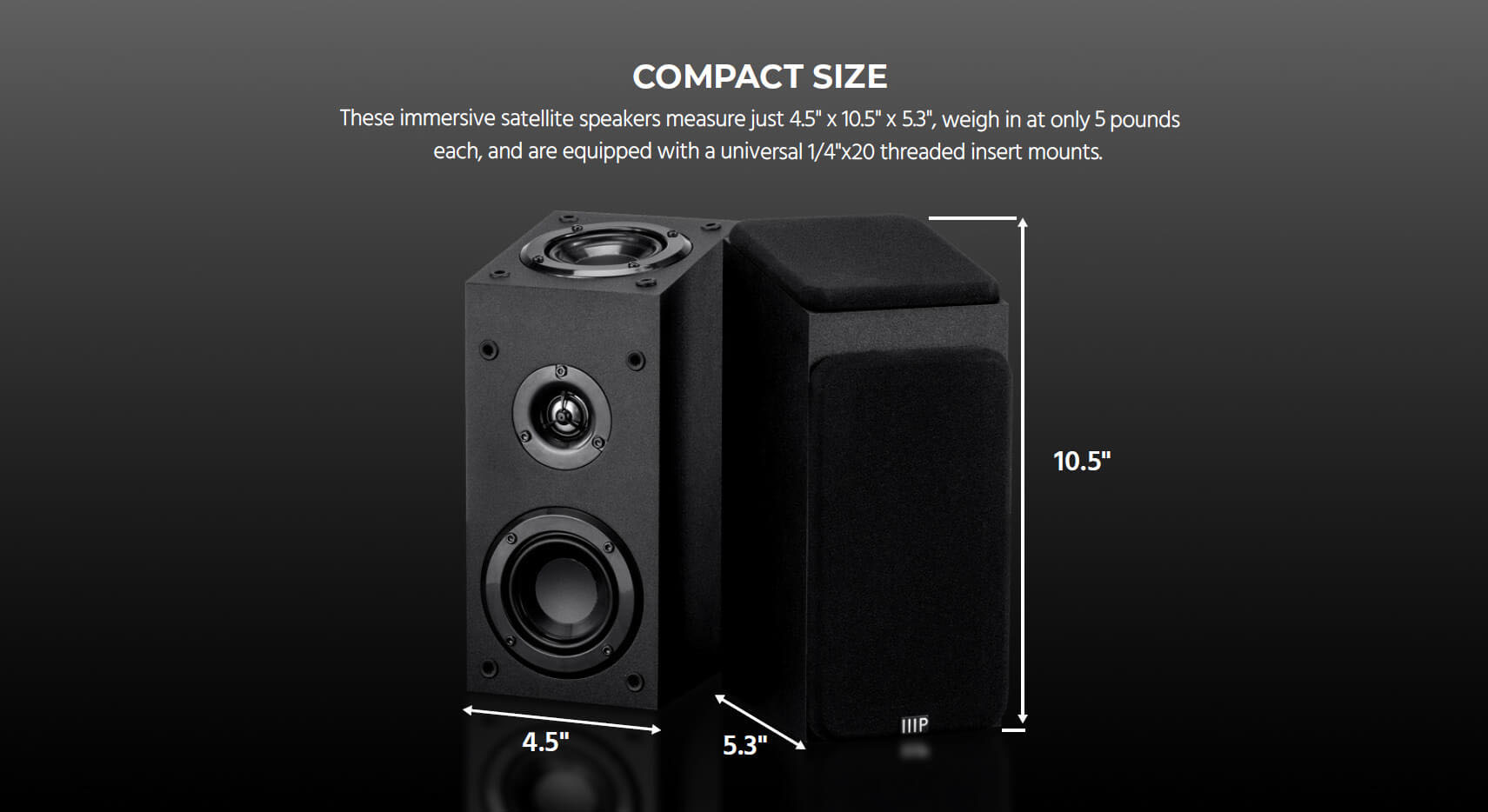 Support Files:
Dolby®, Dolby Atmos®, and the double-D symbol are trademarks of Dolby Laboratories.

How long will it take for my order to arrive?
After the order has been placed, shipping takes about 3-4 business days.
What do I have to pay for shipping?
The shipping is free for all orders to the UK and Jersey. Custom fees are also paid by Monoprice GmbH.
What are the returns policy?
You can return your items to us for free within 14 days without giving a reason. We expect the items to be in their original condition upon return.
How does the return work?
If you do not like an article, you can return it to us within 14 days of delivery. Please contact us at uksupport@monoprice.com to receive a free return label. Please print the return label, stick it on the carefully sealed package and hand it over to your local post office. Please keep the document with the tracking number carefully.