Adjustable Tilting Monitor Mount - Black | Compatible With Screens up to 106 cm - Workstream Collection by Monoprice
Adjustable Tilting Monitor Mount - Black | Compatible With Screens up to 106 cm - Workstream Collection by Monoprice
This monitor mount is designed for today's bigger and wider monitors, providing extra adjustability and improved ergonomics for bigger screens that used to be stuck on basic desktop stands. Easily adjust and lock optimal height levels, portrait or landscape orientation, and horizontal and vertical tilt adjustments for the best viewing angles.
Starting with a stable base that can be clamped on most desk edges or bolted through a small hole on a desktop, this mount is made of quality steel parts that provide a reliable and secure mounting solution. A large 200x200 VESA® adapter supports even bigger screens weighing up to 30 lbs. and up to 42" wide.
With this mount, it is now possible to securely mount bigger screens and get improved viewing angles and positions.
Features:
With its hefty base, metal mounting parts, and an option for up to 200x200 VESA® mounting patterns, this monitor mount is ready for screens weighing up to 30 lbs. and up to 42" wide
Adjust height, portrait or landscape rotation, and horizontal and vertical tilt adjustments
Clamp on a desk edge or bolt through a small hole on the desktop
Structural parts are made of quality steel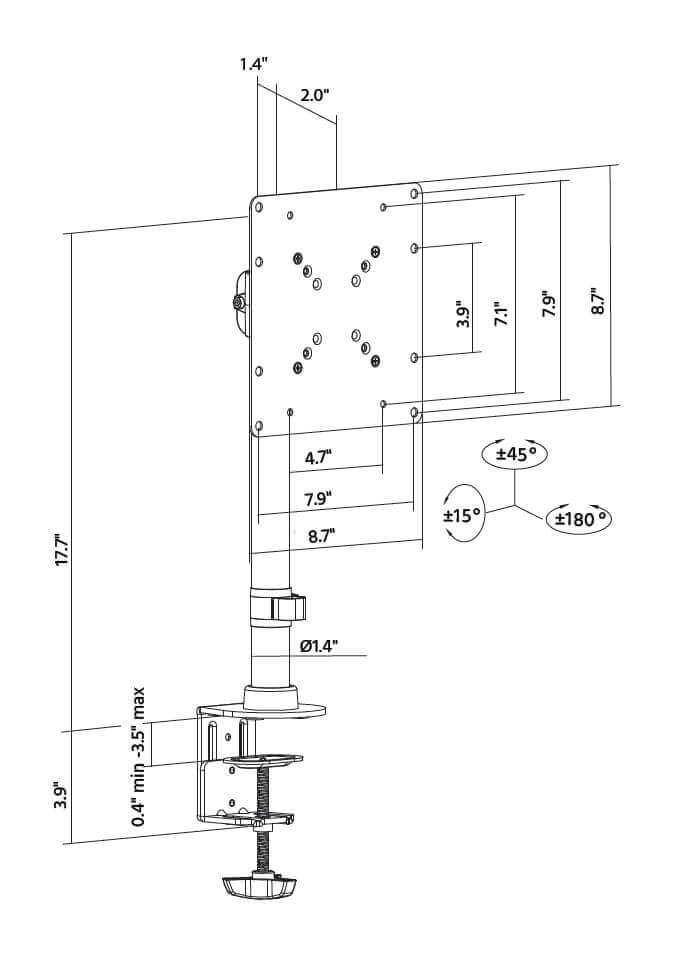 Support Files:
VESA® is a trademark owned by the Video Electronics Standards Association (VESA®) in the United States and other countries.
How long will it take for my order to arrive?
After the order has been placed, shipping takes about 3-4 business days.
As of 12/21/2020, we're experiencing temporary delays due to Brexit and government lockdowns. We cannot predict how long it will take to reopen fulfillment, so we are temporary extending our cancellation period. For more information visit COVID-19 Update.
What do I have to pay for shipping?
Free shipping for orders over £29.
What are the returns policy?
You can return your items to us within 14 days without giving a reason. We expect the items to be in their original condition upon return.
How does the return work?
If you do not like an article, you can return it to us within 14 days of delivery. Please contact us at uksupport@monoprice.com to receive a return label. Please print the return label, stick it on the carefully sealed package and hand it over to your local post office. Please keep the document with the tracking number carefully.