Monolith V2 15in THX Ultra Certified 1000-Watt Subwoofer Amplifier | EU/UK plug
Monolith V2 15in THX Ultra Certified 1000-Watt Subwoofer Amplifier | EU/UK plug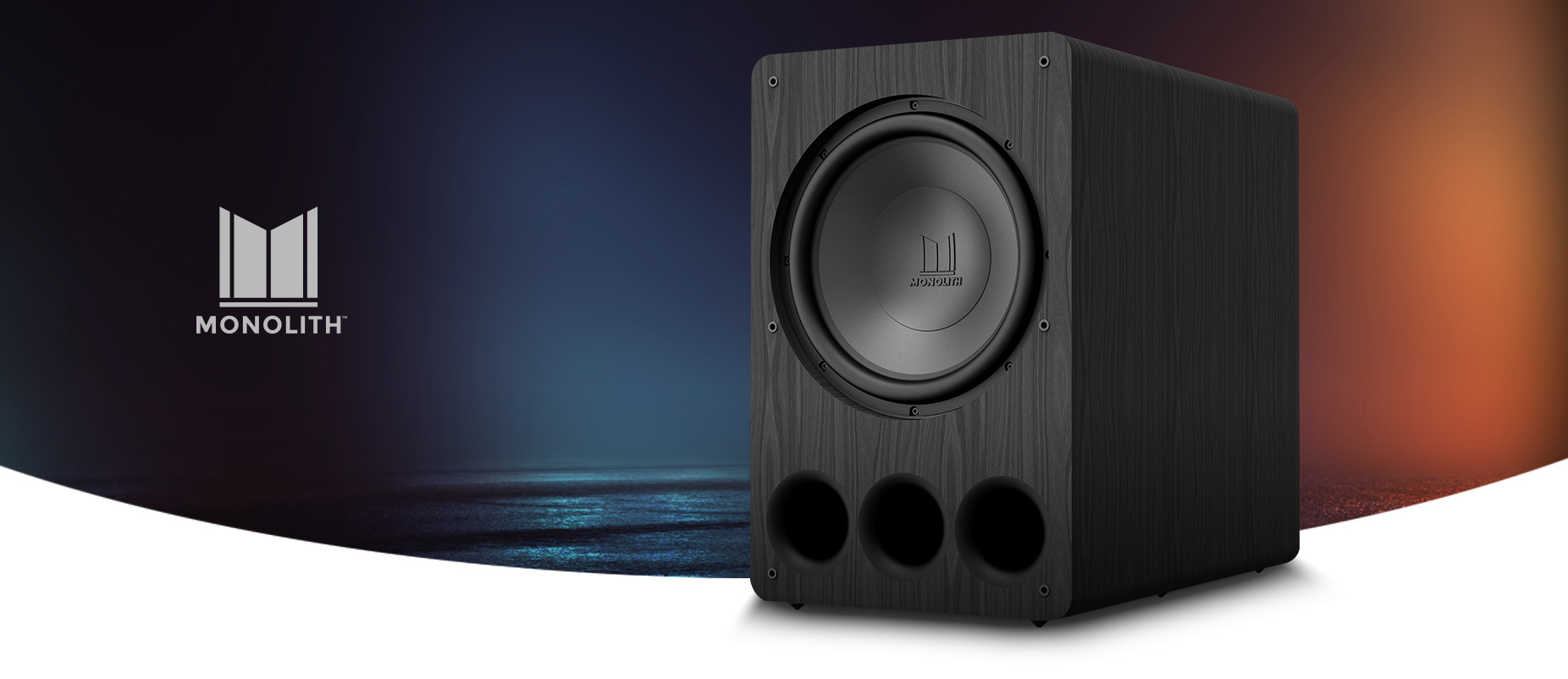 *Shipping time: Delivery time is within 2 weeks and shipping via freight company due to weight and no tracking available.
Monolith™ by Monoprice™
15" THX® Certified Select 1000 Watt Powered Subwoofer
Massive Output. Low Distortion. THX Certified.
---
The Monolith™ THX® certified subwoofer sets the standard for bass output, low distortion, and affordability. With chest thumping bass that plays down to well under 20Hz, the Monolith subwoofer unleashes cinema level volume, with the ability to convey and articulate the subtle nuances of music. The Monolith subwoofer cabinets have been redesigned for a sleeker look, rounded edges, and an inset subwoofer for a better aesthetic appearance.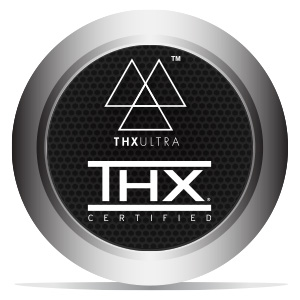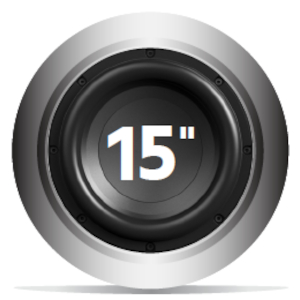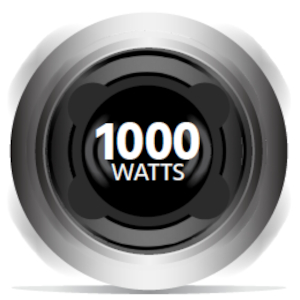 THX Certified Select: THX® engineers completed hundreds of different scientific tests to ensure the highest audio performance possible. The tests ensure the speaker can reach the high volumes necessary to achieve THX Reference Level without creating audible distortion or artifacts. THX Certified Ultra products are for large sized rooms, up to 3,000 cubic feet in size, with a 10‑12 foot viewing distance from the screen.
15" Woofer: The Monolith™ 15" driver was developed from the ground up, with a design focus on achieving output, accuracy, dynamics, and linearity, while minimizing distortion. Enclosed in a cabinet made from HDF material, massive internal bracing, and outfitted with a single port that can utilize a foam plug to run the subwoofer in a sealed mode.
1000 Watt Amplifier: The 1000W RMS amplifier is built around a Texas Instruments® 48‑bit data path (with 28‑bit filter coefficients) and DSP engine. Each amplifier's transfer function, power output limiting, and thermal protection are monitored to the millisecond and are customized for each individual driver. The high efficiency Class D amplifier modules are based on a proven topology that has been continuously refined over the past 6 years. The amplifier has vast reserves of power for highly accurate, deep bass for your home theater or music system.

For over 35 years, THX has set the standard for the audio and visual fidelity of entertainment experiences. THX Certification is a globally recognized assurance of uncompromising quality, consistency and performance. We blend art, technology, and the dynamics of real world listening and viewing environments to ensure products deliver the artist's true vision.
THX Certification
Using industry standards and a proprietary testing methodology, THX engineers evaluate and certify the audio and visual fidelity of consumer electronics to ensure they deliver the optimal entertainment experience. In cinemas, at home, and on‑the‑go, your entertainment comes alive with THX.
Certification Process

What We Test
THX engineers perform hundreds of audio and video performance and quality assurance tests before a product is confirmed to be THX Certified.
AUDIO: We analyze everything from output levels, frequency response, signal‑to‑noise, distortion and bass management to recreate high impact cinema sound and best‑in‑class audio fidelity.
VIDEO: We test color accuracy, panel performance, and video processing, to confirm a display delivers accurate images and pristine video performance in every frame.
Why Certification Matters
The THX Certified benchmark offers consumers the assurance of superior audio or visual performance from consumer electronics.
THX offers the industry's most rigorous testing process
THX guarantees high performance and premium build quality
ANATOMY OF A SUBWOOFER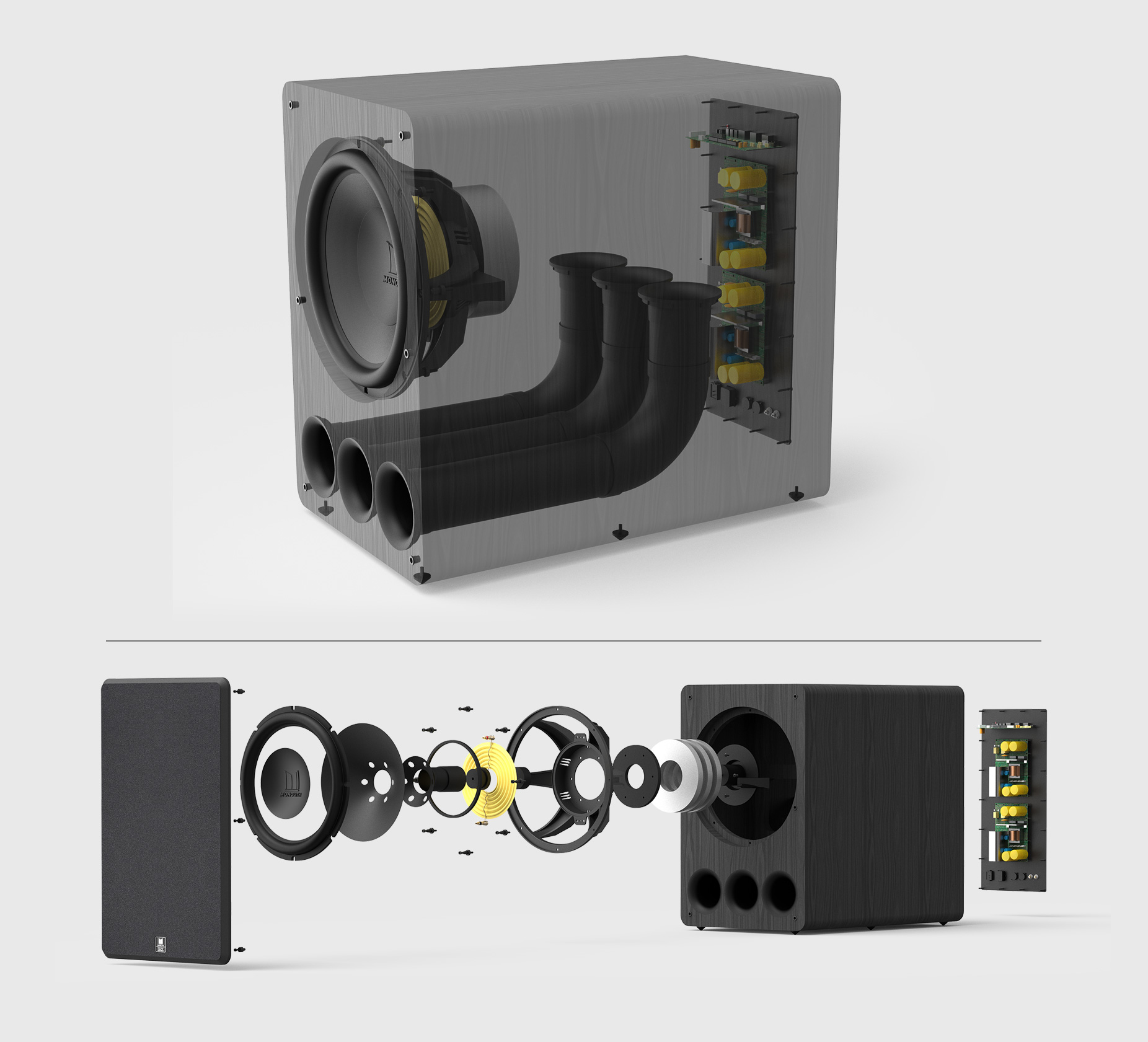 CABINET AND INTERNAL BRACING
HDF (High Density Fiberboard), not MDF, was utilized resulting in a sonically inert cabinet. Internal bracing has been strategically placed to increase overall cabinet strength and limit unwanted panel vibrations that would cause discoloration and distortion. The strong cabinet and bracing combine to ensure you hear massive amounts of bass, not cabinet resonances.
PORTS AND GRILLE
The 15" model uses a single 88.5mm port with inner and outer flares. A port is used to ensure high SPL capability at low frequency (fb=21Hz). The dual flares help reduce turbulence and asymmetrical distortions. Additional adjustments can be made by sealing the port with the supplied plug. The "floating" grille is made from non resonant MDF to provide rigidity, while the entire structure is offset from the cabinet to maximize air flow of the woofer and ports.
15‑INCH DRIVER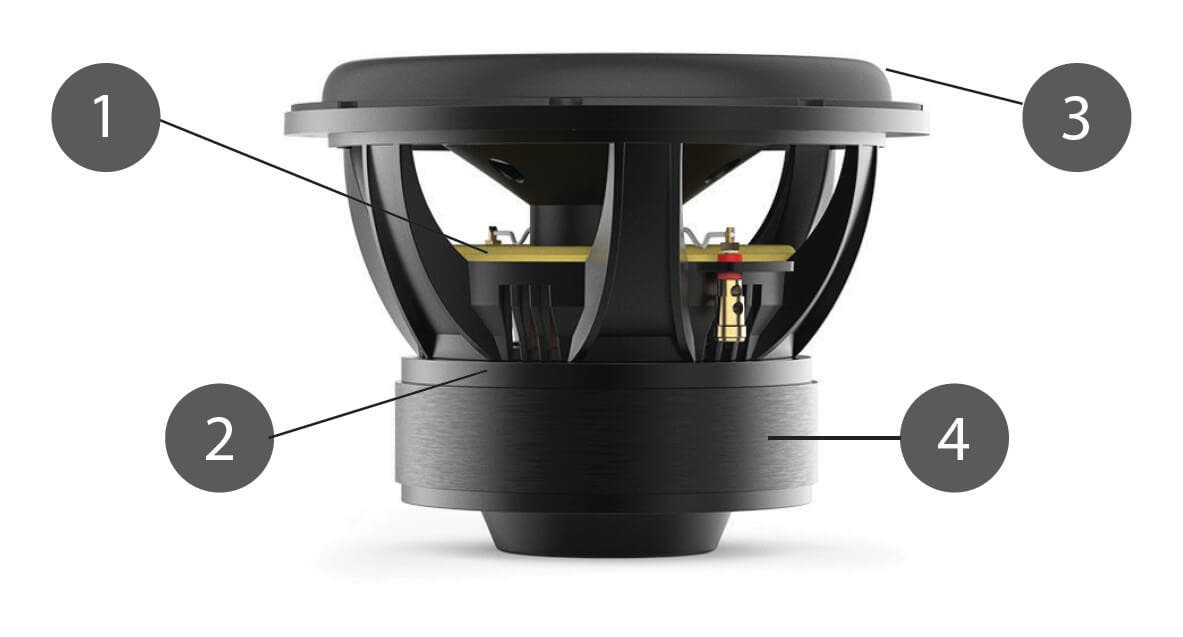 Every part of this driver has been developed from the ground up and customized to deliver high output, low distortion, and accurate bass. Our unique hybrid cone combines long fiber pulp and fiberglass, taking advantage of the pulp's superior stiffness with the additional rigidity and lightweight properties of fiberglass, to deliver a driver of massive durability and excursion. The result is a cone that achieves optimal motion at all frequencies it is asked to produce and beyond.
1. Lower Suspension
FEA (Finite Element Analysis) modeling and Klippel laser based optimizations were used to design a cone that is capable of astounding >90mm peak‑to‑peak excursions. The lower and upper suspensions are designed together with the motor structure. The lower suspension is critical for maintaining very low levels of distortion at high excursions, which are required for high SPL at low frequencies.
2. Spider and Cone Venting
The spider is made from multiple layers of NOMEX® with integrated tinsel leads hand stitched in place for low mass, yet high strength and durability. The purpose of these vents are twofold ‑‑ first, they allow convective air flow to cool the voice coil and, second, they reduce asymmetrical compliance due to air compression under the cone/spider, which would appear as unwanted distortions.
3. Woofer Surround
FEA (Finite Element Analysis) modeling and Klippel laser based optimization were utilized to create this durable, high profile surround that's made from a unique formulation of NBR (nitrile butadiene rubber). This formulation was developed after months of modeling and prototyping to ensure the highest levels of excursion, without sacrificing linearity or distortion.
4. Motor Structure
The motor is made of CNC milled low carbon steel in the modified undercut "T" pole assembly to focus the magnetic flux. Dual aluminum shorting rings are used to cancel eddy currents, further stabilizing the magnetic flux and significantly lowering distortion. The precision wound, high temperature, all aluminum bobbin (which has a lower thermal compression than copper) enable the voice coil to remain cool. The motor and suspension design is extremely critical for maintaining control of the driver's displacement over a very wide range of input signals, allowing the subwoofer to reach maximum performance and output levels, while keeping distortion to a minimum.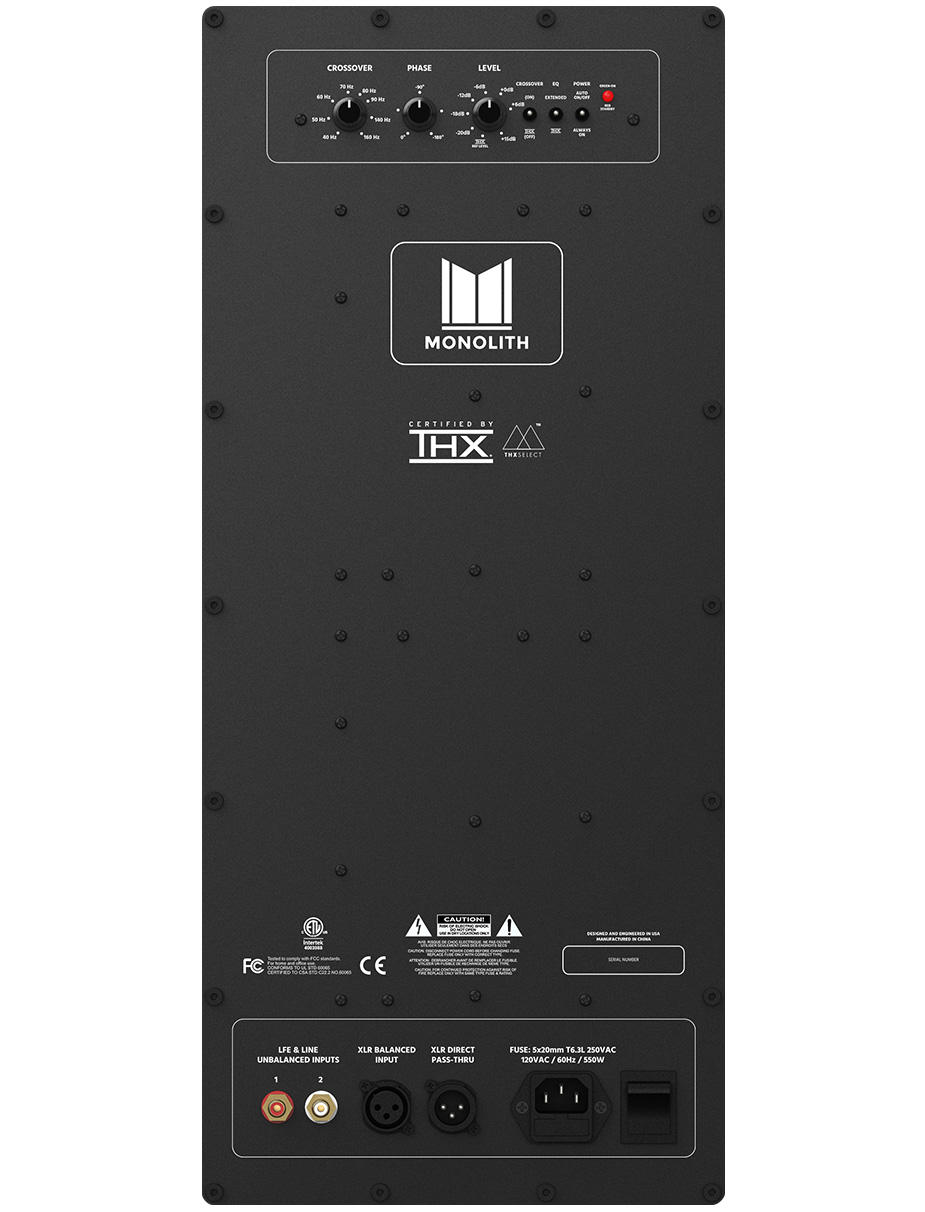 ALL AMP'D UP
The Monolith™ subwoofer amplifier has an extraordinarily high power output of 1000 watts RMS (1800 watts peak), which can deliver massive amounts of power when needed. Each Class D amplifier is built around a Texas Instruments® 48‑bit data path (with 28‑bit filter coefficients) DSP engine, allowing virtually unlimited design flexibility with the assurance of no signal degradation. Each amplifier's transfer function, power output limiting, and thermal protection are monitored to the millisecond and are customized for each individual woofer and cabinet air volume combination. This state‑of‑the‑art Class D amplifier technology ensures maximum headroom capability, excellent transient response, high output, and very low distortion when driving the Monolith 15" THX® Certified Ultra Subwoofer.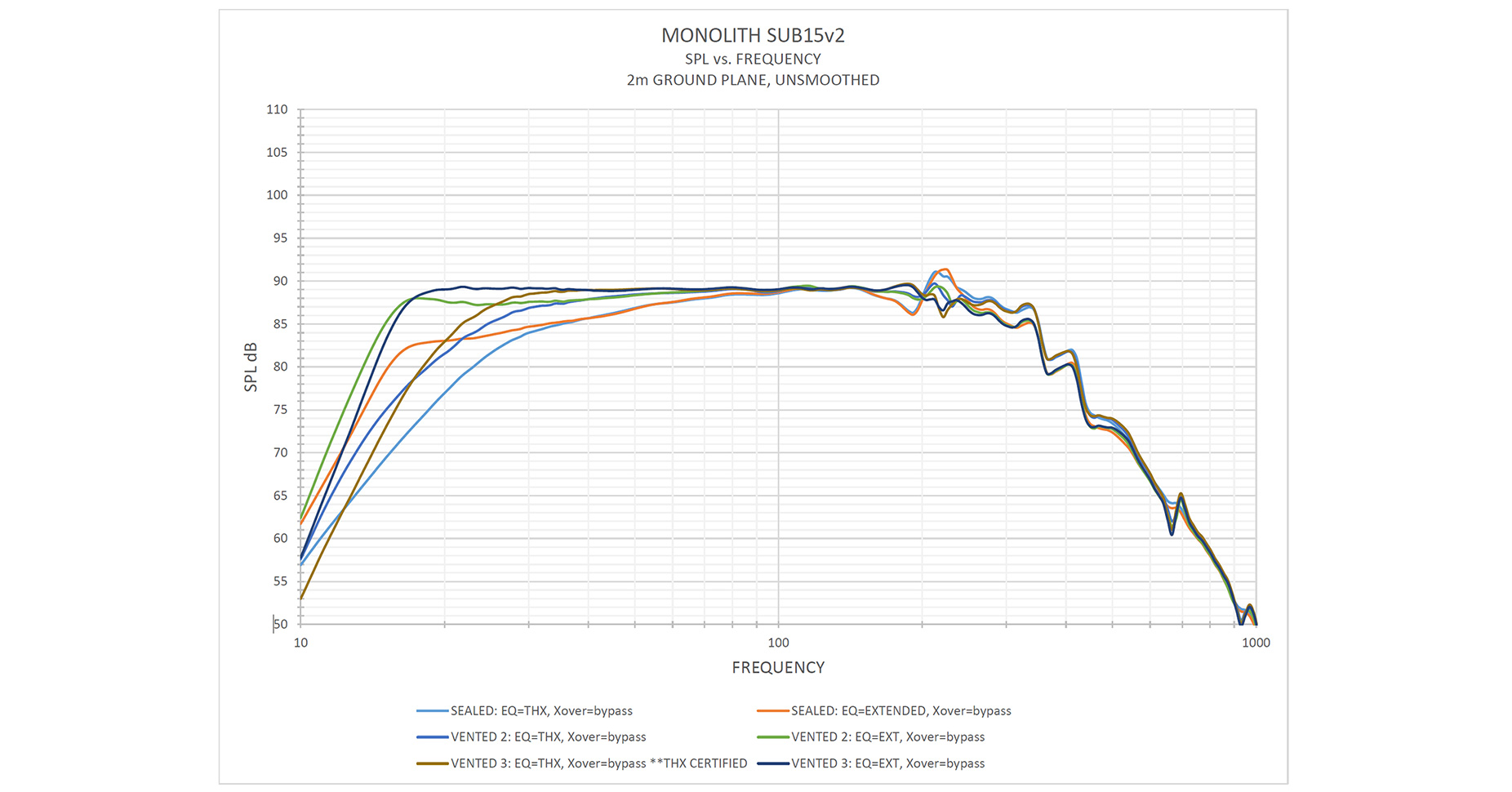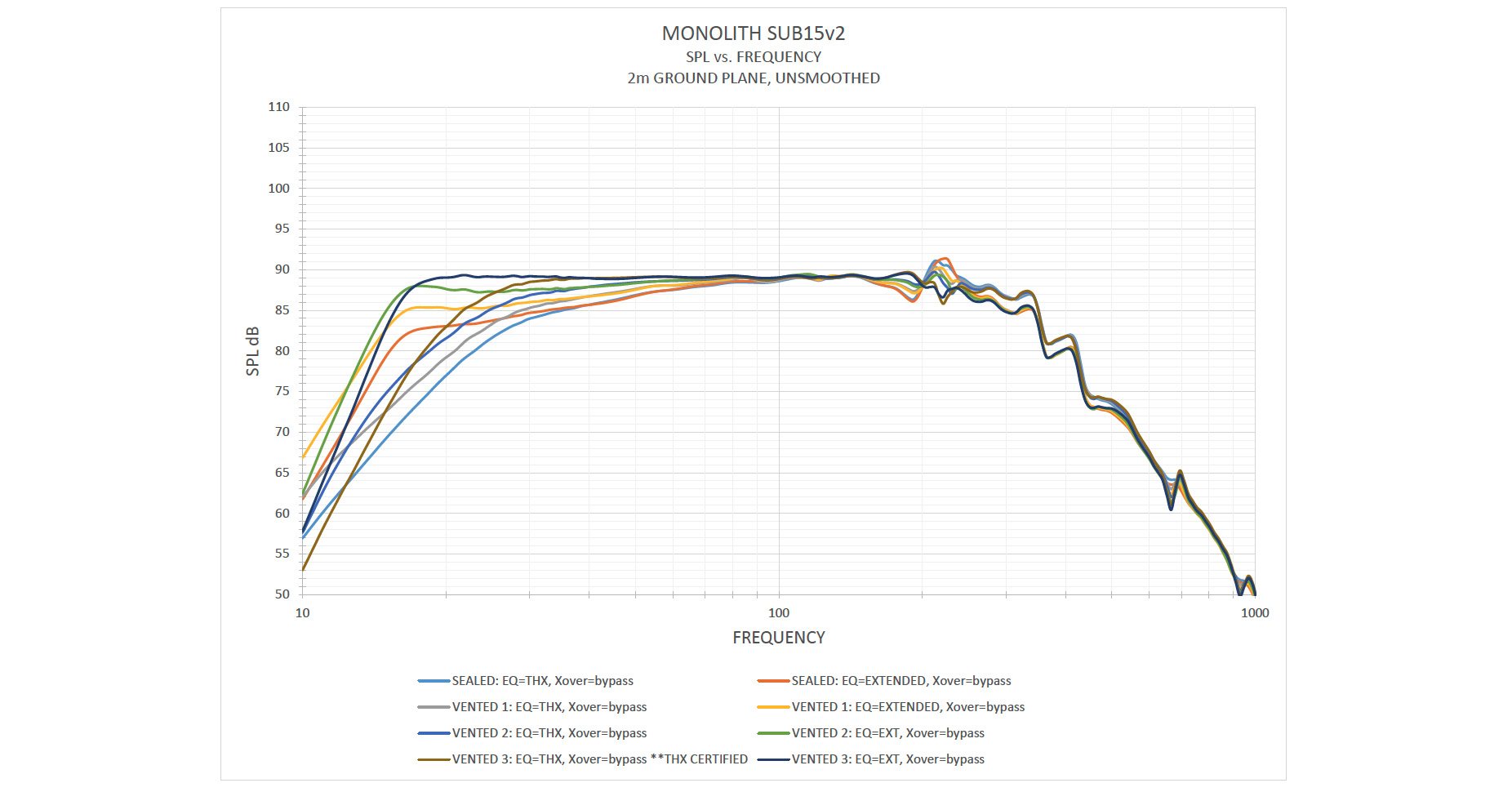 Ported (3 ports)
SPL @ 2m

Distortion

Hz

Peak (dB)

Peak (dB)

THD%

2nd Order Harmonic

3rd Order Harmonic

12.5
91.0
88.0
12.00%
6.00%
9.70%
16
106.3
103.3
19.80%
16.30%
10.90%
20
112.6
109.6
12.50%
5.50%
10.60%
25
116.6
113.6
7.10%
4.20%
5.50%
31
119.5
116.5
5.40%
5.60%
2.20%
40
120.9
117.9
3.10%
2.50%
1.60%
50
120.6
117.6
2.10%
0.70%
2.00%
63
120.0
117.0
2.10%
0.40%
2.00%
80
118.7
115.7
1.50%
0.50%
1.30%
100
120.1
117.1
2.90%
0.70%
2.40%
125
120.2
117.2
1.30%
0.60%
0.80%
Ported (2 ports)
SPL @ 2m

Distortion

Hz

Peak (dB)

Peak (dB)

THD%

2nd Order Harmonic

3rd Order Harmonic

12.5
100.4
97.4
16.40%
11.80%
10.50%
16
107.5
104.5
11.20%
6.50%
8.90%
20
111.6
108.6
11.30%
3.50%
10.00%
25
115.4
112.4
7.80%
5.90%
4.00%
31
118.2
115.2
5.50%
4.80%
1.90%
40
119.7
116.7
2.80%
1.90%
1.90%
50
119.8
116.8
2.10%
0.60%
2.00%
63
119.5
116.5
2.10%
0.40%
2.00%
80
119.4
116.4
1.50%
0.50%
1.30%
100
119.9
116.9
2.90%
0.70%
2.40%
125
120.1
117.1
1.30%
0.60%
0.80%
Sealed
SPL @ 2m

Distortion

Hz

Peak (dB)

Peak (dB)

THD%

2nd Order Harmonic

3rd Order Harmonic

16
100.8
97.8
19.40%
8.60%
16.60%
20
106.9
103.9
19.10%
8.30%
16.10%
25
112.3
109.3
11.40%
8.70%
4.20%
31
115.8
112.8
7.30%
5.70%
3.70%
40
117.7
114.7
2.90%
1.40%
2.40%
50
118.4
115.4
2.20%
0.40%
2.00%
63
118.6
115.6
2.10%
1.90%
2.00%
80
118.9
115.9
2.00%
0.50%
1.80%
100
119.5
116.5
3.00%
0.60%
2.50%
125
120.0
117.0
1.10%
0.60%
0.60%
Model
42853
Woofer
15" cone
Cone Material
2 layer long fiber pulp/glass fiber cone
Voice Coil
60mm with high temperature aluminum wire and black anodized aluminum bobbin
Surround
FEA optimized NBR (nitrile butadiene rubber)
Motor
FEA optimized, undercut T‑pole focused field
Magnet
Ceramic Y35, 3 pcs total 270 oz.
Xmax
25mm (one‑way)
Xmech
90mm (peak‑to‑peak)
Enclosure
Sealed or vented HDF cabinet with horizontal and vertical bracing
Finish
Black Ash
Amplifier
Class D 1000Wrms
Frequency Response (‑6dB)
Sealed
Vented (1 Port)
Vented (2 Ports)
Vented (3 Ports)
     Extended EQ
17‑200 Hz
Not Recommended
14‑200 Hz
16‑200 Hz
     THX® EQ
26‑200 Hz
Not Recommended
22‑200 Hz
20‑200 Hz
Harmonic Distortion
<3% 20‑100 Hz (90dB @ 1m)
Variable Level Control
+15/‑20dB
Crossover
Inline/Bypass variable 40‑160 Hz
Inputs
RCA (2), XLR
Outputs
XLR
Signal Turn On
Selectable always on/auto
Auto Turn Off
30 minutes
Dimensions
28.7" x 17.7" x 26.8" (730 x 450 x 680 mm)
Weight
132.9 lbs. (60.3kg)
---
Monoprice™, Monolith™, the Monolith logo, and all Monoprice logos are trademarks of Monoprice Inc.
THX® and the THX logo are trademarks of THX Ltd., registered in the U.S. and other countries. The THX Select logo is a trademark of THX Ltd.
Texas Instruments® and TI® are registered trademarks of Texas Instruments Incorporated.
DuPont™ and Nomex® are trademarks or registered trademarks of E.I. du Pont de Nemours and Company or its affiliates.

How long will it take for my order to arrive?
After the order has been placed, shipping takes about 5-7 business days. Our warehouse is located in the Netherlands.
What do I have to pay for shipping?
Shipping to the UK is free for all orders over £30. For orders below £30 shipping costs are £3.79. Custom fees are also paid by Monoprice GmbH.
Shipping to Jersey, Isle of Man, Guernsey:

Orders above £50: £4.99

Orders below £50: £9.99
What are the returns policy?
You can return your items to us for free within 30 days without giving a reason. 
How does the return work?
If you do not like an article, you can return it to us within 30 days of delivery. Please contact us at uksupport@monoprice.com to receive a free return label. Please print the return label, stick it on the carefully sealed package and hand it over to your local post office. Please keep the document with the tracking number carefully.