Monoprice Above Fireplace Pull-Down Full-Motion Articulating TV Wall Mount w/ Optional Soundbar Mount - Rotating, Height Adjustable
Monoprice Above Fireplace Pull-Down Full-Motion Articulating TV Wall Mount w/ Optional Soundbar Mount - Rotating, Height Adjustable

The Monoprice™ Above Fireplace Mount with Soundbar Bracket conveniently pulls down, lowering your TV to eye level to reduce the strain from constantly looking up at the television. The included soundbar bracket provides the option to free up mantel space and enhance the sound. This mount is capable of tilting, swiveling, and rotating your TV's position, and supports TVs weighing up to 62 or 132 pounds.
The 42in to 65in Mount:
Maximum Weight: 28 kg (62 lbs)
Patterns up to 600x500
The 55in to 80in Mount:
Maximum Weight: 59 kg (132 lbs)
Patterns up to 800x500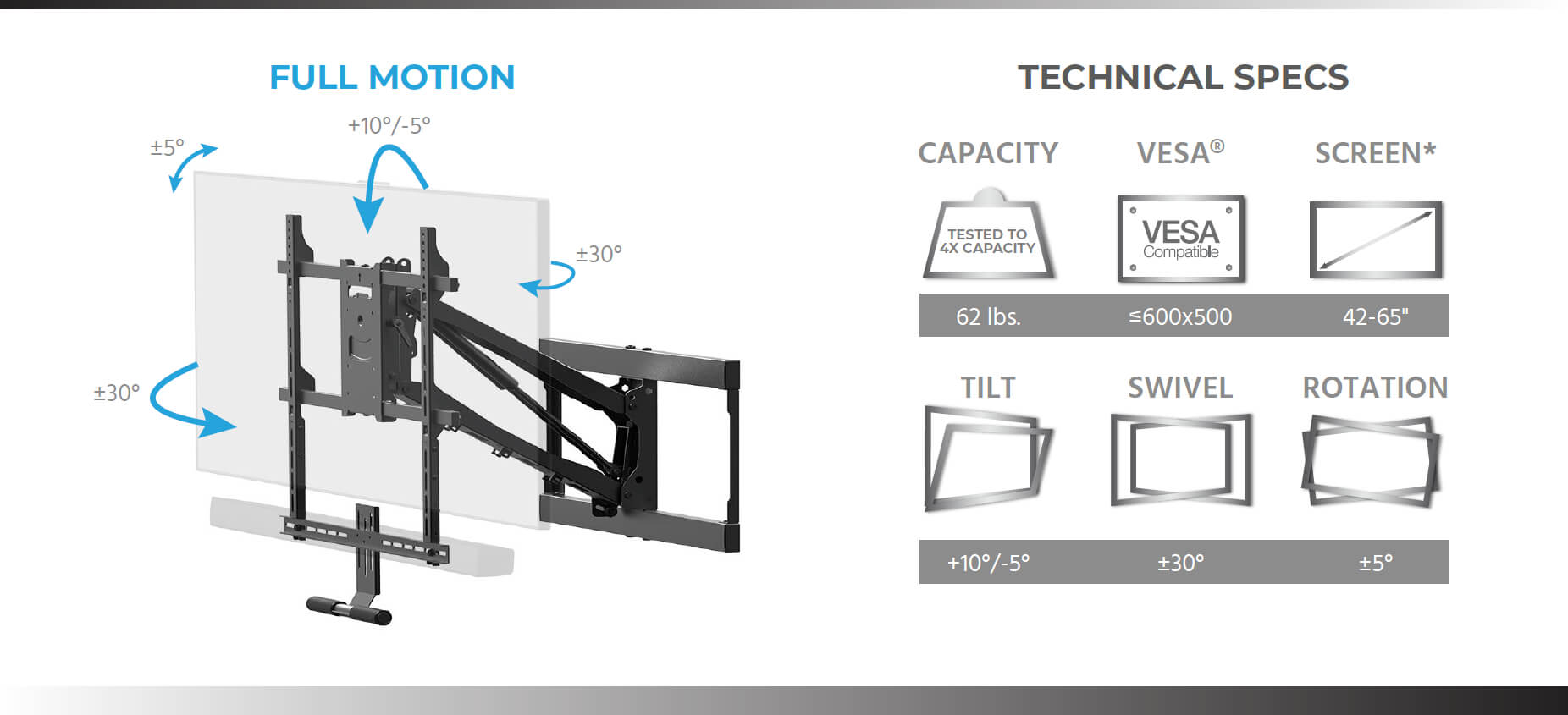 Support Files:
Monoprice™ and all Monoprice logos are trademarks of Monoprice Inc.
VESA® is a registered trademark of the Video Electronics Standards Association.
HDMI®, the HDMI Logo, and High-Definition Multimedia Interface are trademarks or registered trademarks of HDMI Licensing LLC in the United States and other countries.
UL® and the UL logo are registered trademarks of UL LLC.
How long will it take for my order to arrive?
After the order has been placed, shipping takes about 3-4 business days.
As of 12/21/2020, we're experiencing temporary delays due to Brexit and government lockdowns. We cannot predict how long it will take to reopen fulfillment, so we are temporary extending our cancellation period. For more information visit COVID-19 Update.
What do I have to pay for shipping?
Free shipping for orders over £29.
What are the returns policy?
You can return your items to us within 14 days without giving a reason. We expect the items to be in their original condition upon return.
How does the return work?
If you do not like an article, you can return it to us within 14 days of delivery. Please contact us at uksupport@monoprice.com to receive a return label. Please print the return label, stick it on the carefully sealed package and hand it over to your local post office. Please keep the document with the tracking number carefully.